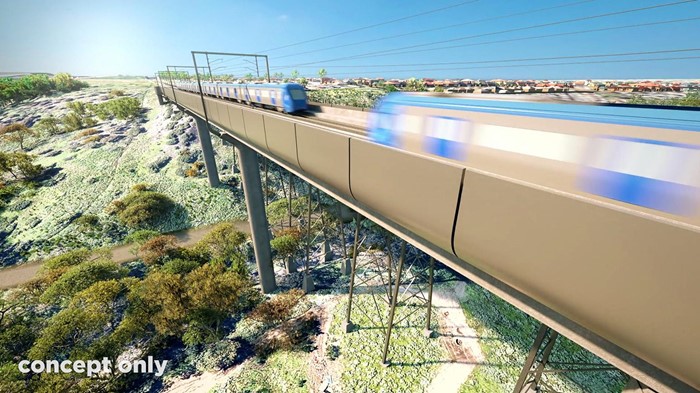 ---
Victoria's Big Build has released concept designs via a roughly minute-long video available on its website that gives Victorians a view of a new rail bridge extending over the Maribyrnong River. Part of the multi-billion-dollar Melbourne Airport Rail project to start construction next year, the bridge will span 550 metres (1,804.5 feet) and follow the existing heritage-listed rail bridge over the river. At 50 m (164 ft.) high, it will be Melbourne's second-highest bridge.
"Transformational Public Transport"
Five decades in the works, the Melbourne Airport Rail will tie Melbourne Airport to Victoria's regional and metropolitan train network for the first time. The project timeline calls for a 2029 opening—subject to relevant Victorian and Federal planning, as well as government approval of environmental and other factors. The Federal and Victorian governments have each dedicated $5 billion to the rail.
Numerous major road and rail projects including the Melbourne Airport Rail comprise Victoria's Big Build, which is overseen by the Major Transport Infrastructure Authority (MTIA). The rail will provide train travel from Melbourne Airport to the CBD (Central Business District) in less than 30 minutes. Airport trains will ascend gradually to travel on new elevated tracks measuring less than 2 kilometres between Sunshine and the Albion Junction, and will then descend and continue traveling at ground level alongside the existing freight line through Sunshine and Airport West toward the airport.
Victoria's Big Build says the new bridge will "avoid costly and disruptive impacts to several major roads." It adds that reference design along the alignment is now underway with key stakeholders such as councils, communities, government agencies, and Heritage Victoria, with contractors providing consultation.
Find Your Next Aircraft
If you're in the market for new or used jets, turboprops, or piston singles or twins, AviationTrader.com.au is the leading source for these and all other types of aircraft throughout Australia, New Zealand, and the South Pacific.
Source: Victoria's Big Build